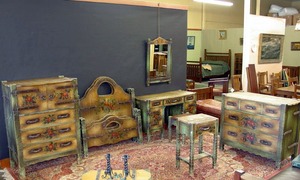 Monterey bedroom set.
Vintage Monterey Bedroom set including large Highboy dresser, Lowboy dresser, dressing table with hanging mirror and leather covered stool, nightstand and two single beds missing their rails. The bed headboards measure 43" wide and are sometimes joined to create one King size bed. The entire set is abundant in iron work and hand painted floral decoration. The condition is well used, with paint loss at the feet and at some of the top surfaces, the most severe can be found on the top of the nightstand. The pieces are in otherwise sound structural condition and the apologies distract little from the overall charm of this uncommon grouping of Monterey furniture. All of the pieces are signed with the branded horseshoe mark used by the Monterey Co.
---

---

Close-up painting on Highboy door.


---

---

Dressing table shown open, revealing interior drawers and metal racks.


---

---

Dressing table shown with matching mirror.


---

---

Lowboy dresser.


---

---

Pair of single beds, missing their rails.


---

---

Large Highboy with three drawers below two doors with strap hinges concealing two interior drawers.


---

---

Close-up hand painted floral decoration on bed.


---

---

Dressing Table.


---

---

Mirror.


---

---

Painting on mirror.


---

---

Nightstand.


---

---

Highboy shown with doors open.


---

---

Branded signature on stool.


---

---

Leather topped dressing table stool.